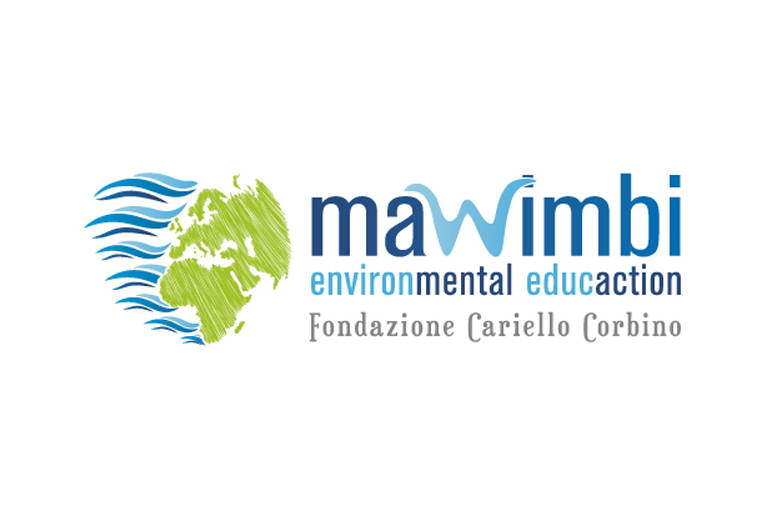 12. Mawimbi – Environmental Education
Mawimbi ("waves" in Swahili) is the environmental education project of the Cariello Corbino Foundation, born in July 2018. The project is led by the biologist Lorenzo Lodato, to whom it owes its name.
It is not a question of declaring themselves environmentalists but of being women and men of common sense, because as Epicarmo Corbino wrote in 1974, "It will take a great effort from now on to convince men that the battle, which will soon take place, is not one of the usual political struggles, but is the battle for the survival of man on Earth" (E. Corbino "EEE – Economy Energy Ecology)
Mawimbi was conceived as an umbrella project under which all the initiatives in support of the Earth will be carried out. This is one of the two pillars of the Foundation that we wanted to highlight in the EartHeart logo itself.
In the Mawimbi logo, a heart-shaped land-sea – reminiscent of the original logo of the Foundation, are carved the 4 words that define it: EnvironMental EducAction.
Environment
Mental: as it is necessary to change the mentality of consumers, companies and institutions
Education: of new and old generations,
Action: because Mawimbi will not only be education but also concrete action of volunteering, proposal and change towards a new economic model.
From May 2022 the activities of Mawimbi will be carried on by the wonderful group of volunteers of 'N Sea Yet, a Naples based association that works to spread awareness on environmental protection and  circular economy. We have signed an agreement to become their social sponsor, therefore we will financially support, as far as we can, their creativity and their passion for a more ecologically aware Naples and Italy
| | |
| --- | --- |
| 12. Project name: | Mawimbi – EnvironMental  EducAction |
| Country / Place | Italy |
| Purpose of the project | Promoting environmental education by example |
| Beneficiaries | Napoli community and other communities in Italy |
| Local Partner | Local associations and small sponsors |
| FCC type of support | Financial, management, operational |
| International partners | |
| Notes: | The programme is carryed out by volunteers mainly during holidays & free time |
| Donations per year (€) | Euros (activities, items) |
| 2018 | Donations of items / services  for beach cleaning – EarthDay |
| 2019 | Donations of items for the "Posilliplogging" street cleaning  (Napoli, 6 October) |
| 2022 | Donations to the Neapolitan environmental association N' Sea Yet (1000,00 Euro)–> www.nseayet.org |
We may be just a drop in the ocean, but the ocean is made of drops indeed!
If you like what we try to achieve, please give us a helping hand.
If you want to know more, contact us
Please, help us supporting our projects.
Thank you!